Palace Hotel Co., Ltd. is committed to continuing its legacy of making guest safety its utmost priority at all times and positively impacting the environment and the community in which it operates.

At the core is the spirit of Omotenashi (Japanese hospitality), where bringing joy to people is what brings us joy.

We promise to contribute to the achievement of a sustainable society by extending Omotenashi to the future world, in the same way we extend Omotenashi to our guests.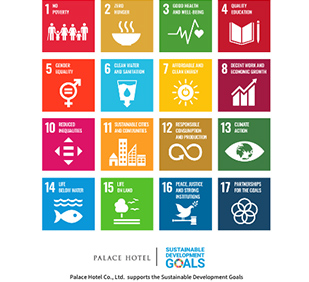 SUSTAINABILITY CONCEPTOmotenashi For The Future
THREE PILLARS OF ACTIONOmotenashi in Service to People
Omotenashi in Connection with Society
Omotenashi in Harmony with Nature
Disaster Prevention

・1985 – | Formation of the in-house fire prevention team, which participates annually in the community competitions held by the Marunouchi Fire Department with both the men's and women's team winning prizes regularly.
・2012 – | Palace Hotel Tokyo was rebuilt to incorporate some of the most sophisticated vibration control technology. Its fire prevention standards are certified by the Tokyo Fire Department and extensive drills are conducted on a regular basis and supported by a comprehensive internal manual on emergency management as well as detailed in-room instructions on emergency procedures.
・2020 – | Palace Hotel Tokyo has achieved the GBAC STAR™ Facility Accreditation, affirming its implementation of the most stringent protocols for cleaning, disinfection and infectious disease prevention throughout the property under the guidance of the Global Biorisk Advisory Council® (GBAC), a division of ISSA – the worldwide cleaning industry association.

Food Safety

・Every kitchen in Palace Hotel Tokyo is designed for optimum safety and efficiency in the handling and preparation of food.
・Extensive in-house training on safe food handling, hygiene and incident prevention is conducted on a regular basis to ensure industry best practices are consistently met.
・A menu management committee meticulously reviews the contents of each menu to ensure accuracy in the description of ingredients and food presentations.

Motivating Employees

・Palace Hotel Tokyo welcomes qualified students from hotel and culinary schools to give them the opportunity to gain valuable work experience outside of the classroom while still in school, under the tutelage of highly experienced hospitality professionals.
・We promote the employment and empowerment of foreign citizens and persons with disabilities as well as support childcare for employees, to achieve diversity and inclusion.
・An in-house award "Best Performer Award" is given to employees with exceptional performance that exceed our guests' expectations.

Reconstruction Support and Donation Activities

・2014 – | Palace Hotel Tokyo has been participating in the Ecocap Movement which promotes recycling and reduces CO² emission and provides medical support for developing countries by the profits and supports employment of persons with disabilities and elderly people in the process.
・2017 | Donated the hotel's disaster supply stock of drinking water upon replacement.
・2020 – | Regular donation to food banks of pieces of baked goods not suitable for selling, which are then distributed to nursing homes and Children's Cafeterias for those in need.
・2021 – | Donated a portion of the proceeds of the hotel's original eco-friendly reusable bag to a nature conservation organization.

Reduce of Food Waste and Loss of Resources

・1992 – | As one of the frontrunners of the industry, the recycling of kitchen refuse by fermentation was put in place.
・1997 | The recycled kitchen refuse is made into a bio-degradable fertilizer "Eco-Palace" and distributed for utilization by some local farms, the produce being returning to the hotel for use creating a circulation recycling system.
・2021 – | Imperfect fruit and vegetables removed from the food chain due to their substandard shapes and sizes are used in our restaurants and bars.
・2021 – | Creation of new menus utilizing the cut-off edges of cakes.
・2021 – | Creation of new menus in collaboration with FOOD LOSS BANK.

Community Initiatives

・1992 – | Weekly clean-ups of the hotel premises.
・2003 – | Palace Hotel Tokyo has been a corporate sponsor of the complimentary Maruouchi Shuttle which services the areas of Otemachi, Marunouchi and Yurakucho – the OMY area – helping to promote the surrounding community to domestic and international visitors alike.
・2013 – | Participation in "OMY Kirapika Strategy," a routine clean-up activity organized by the OMY Area Management Association.

Sustaining Traditional Culture and Art

・2012 – | Tradition and contemporary coexist in the Marunouchi district where Palace Hotel Tokyo stands. Through both international and local artwork as well as interior decor incorporating traditional Japanese techniques, we present guests with the essence of the Japanese culture and the very best of Japan, serene and refined.
・2019 – | The launch of "The PALACE" magazine, introducing and disseminating traditional Japanese culture.
・2020 – | Hotel art tours are conducted by the concierge.

In addition, various artistic and cultural activities are hosted by Palace Hotel Tokyo, such as Japanese dance performances and flower arrangement exhibitions.

Reducing CO² Emissions and Decarbonizing

・2012 – | As part of its complete reconstruction, sophisticated energy saving equipment has been installed throughout Palace Hotel Tokyo, including highly efficient air-conditioning systems, solar-powered generators, combined heat and electric power generators, total heat-exchangers for guestroom air-conditioners and rooftop greening.
・2012 – | High-tech air-flowing windows were also installed in the adjoining Palace Building, which reduces the impact from the outdoor air and keeps the load on the air-conditioning system to a minimum.
・2015 – | A Supercharger for Tesla electric cars is installed.
・2016 – | The light bulbs in the guestrooms are changed from LED to Krypton, reducing 240,000 kW annually (equivalent of 117 tons of CO²).
・2020 – | Utilization of green energy.

Reducing Single-Use Plastics

・2019 | Adoption of paper straws.
・2020 | Adoption of biomass waste bags.
・2021 | Pastry Shop Sweets & Deli's cutlery is changed from plastic to wood, and available only at charge.

In accordance with the Act on Promotion of Resource Circulation for Plastics which went in effect on April 1, 2022, Palace Hotel Tokyo and Zentis Osaka aim to reduce the usage of 12 specified plastic items by 60% by 2024, in comparision to 2019.

Other Environmental Initiatives

・2020 – | Adoption of FSC-certified paper on the hotel brochures and paper bags, supporting responsible forest management and preserving the forest.
・2021 – | With an exclusive contract with the organic vegetable farm Hakushu Toen, French Restaurant Esterre provides a safe and secure culinary experience, with locally grown products.
・2021 – | Using locally grown vegetables from farms within Tokyo, Palace Hotel Tokyo supports the preservation of farmlands or the metropolitan area while also reducing the environmental impact of long-distance transportation.
・2021 – | In an effort to reduce the environmental impact from our food, All-day Dining Grand Kitchen offers environmentally-friendly menus using meat subsitutes.
・2021 | Palace Hotel Tokyo acquired the Eco Mark certification "Hotels and Inns Version 2," awarded to facilities engaged in environmental initiatives on a high level, such as reducing food loss, contributing to the community and society, in addition to other basic environmental measures.